First of all there's Katie.
She's the reason I started this little bloggy.
I stumbled upon her blog via pinterest & literally spent hours browsing through previous posts. & I've loved her ever since!
Rocky is the cutest, her & Billy are pretty much perfect, she has the BEST style & the most amazing DIY's.
& once you've mentioned Katie you CAN'T forget Steph!
I found Steph via Katie once they started up the SPD link-up & to say I love love love her is an understatement.
She's got great advice, she's so down to earth, her & Beau are so damn cute, she's hilarious & of course she has great DIY's.
Her blog instantly became a daily read.
Plus she's a Houston blogger.. LOVE! ;]
Just kidding! Haha.
She's probably the most honest/real blogger I've found. She's hilarious, gives great advice & has great stories. PLUS, I'm beyond obsessed with Tugger.
Not only is she GORGEOUS, but her & DDHP are by far the CUTEST COUPLE EVER! Not to mention, she's an amazing photographer (in fact, when I finally get engaged/married I think I'll be calling her ;]).
I love Kayla! She's so funny & so cute & so inspiring. She keeps it real & her & Caleb are adorbs. I can't wait til her wedding so I can see alllll the pictures!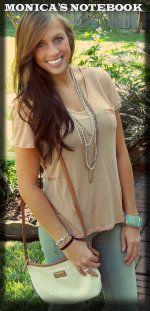 I found Monica via Pinterest & since then I've seen her (& re-pinned her haha) on pinterest a billion times. She has the most amazing clothes & as soon as I get some money I'll be buying stuff from her new store she opened because she sells the greatest stuff! & her & kyle are beyond cute. Plus, she's a Houston blogger too!
Lauren is adorable & so sweet. Her hair is amazinggg & I'm super jealous! Plus, she has the cutest clothes & DIY's & the way her & Justin renovated their house is awesome! & she's the reason I got my adorable new camera strap.. I always see things I want on her blog!
All these girls are my blogger crushes!
They're my absolute must reads & I may or may not stalk all of them on instagram too ;]
Go check them out if you haven't already.
They're pretty awesome!
& go link-up with Erin! She's so much fun, I promise!