I'm not hating Mondays as much as I used to.
Probably because I don't have a job to wake up for. [Don't hate.]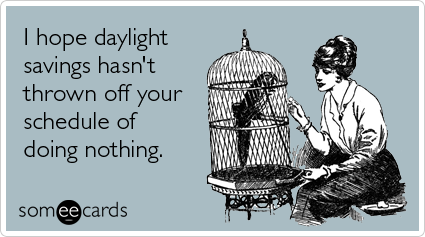 (for the record, I do a few things haha)
Anyways on to the weekend shenanigans that went down.
Friday night, Darren & I took Wrinkles to a bar/dog park called "The Boneyard" with some friends of ours.
If you live in Houston, I highly recommend you go!
There were soooo many dogs there running around.. We loved it & Wrinkles loved it.
He was a little shy at first, but eventually he got out there & ran around with dogs that were literally 10 times his size haha.
After we left there we headed over to St. Danes for some food. St. Danes is a bar/restaurant that allows you to bring your dogs. I'd highly recommend that place as well.
Everyone was so friendly at both places. It's a good way to go out & drink & have fun but not have to leave the pups at home.
Plus St. Danes has 99 cent mimosas all day every sunday! SOLD.
sorry for the bad quality pics.. iPhone + bad lighting = sucky pictures!
Oh yeah, I can't forget this shot they had on their shot menu!
You can't tell me I'm the only one who finds this funny...
Saturday I hung out with Wrinkles for a bit..
Then we went to the mall to go to the apple store because Darren's iPhone was messing up & I ended up finding this cute dress for only $15.
That night we headed downtown for Darren's aunt's surprise 60th birthday party.
**sidenote: Darren looks white, but he's 100% Mexican. Even I thought he was white when I met him haha. But with the last name 'Romero' it didn't take long to figure out I was wrong!
The party was at a place called the Latino Learning Center

[that's why I felt the need to add that sidenote in there lol]

& it was just this huge open space that they decorated & hired a DJ & had BBQ catered. It was a lot of fun & the food was delicious! The old people were gettin' down!
Sunday was the laziest day ever for us!
We slept in til 10:30 [well, technically 11:30 with the whole Spring forward thing... ugh] & I made us some breakfast.
Then we watched a few episodes of Mad Men since we haven't seen season 5.
If you don't watch Mad Men, start watching... NOW!
Then we went & saw Oz with my bff since she's in town for the week!
Of course we snuck in a bottle of wine... or two ;)
Oh, & I forgot to mention I was stalking Katie, Steph, Shay & Kristen allllll weekend on instagram to see what kind of shenanigans they were getting into.. Can't wait to read all about it on their blogs!!
That's all I've got for y'all.
linking up with the funny, pretty & witty Sami!